How to Use Chative.IO Mobile App for Seamless Customer Engagement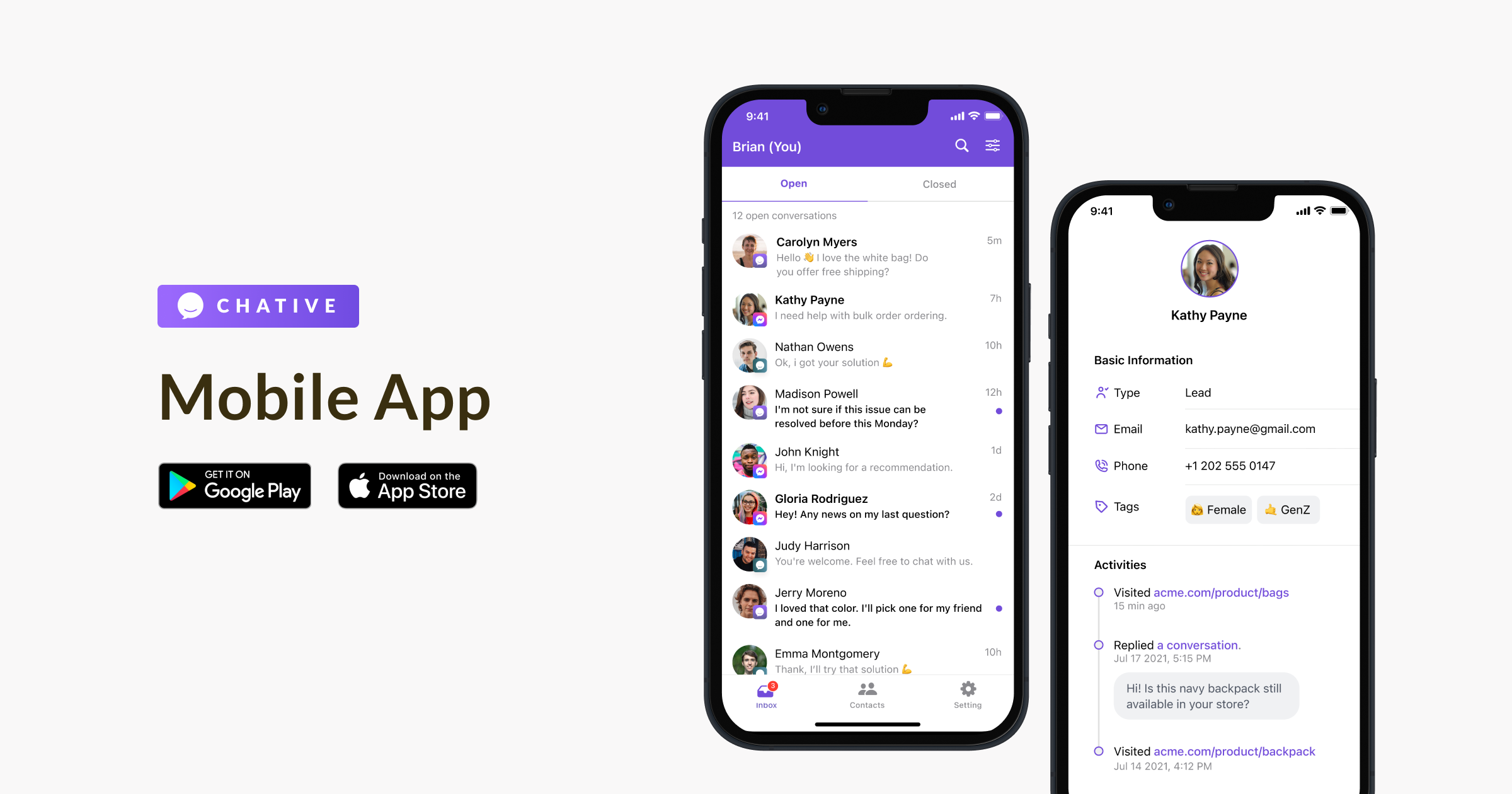 This guide will walk you through everything you need to know about using Chative.IO on your mobile devices. With the Chative.IO mobile app, you can stay connected with your customers and provide exceptional support even while on the go.
Compatibility and supported platforms​
The Chative.IO mobile app is available for both iOS and Android devices. Please ensure that your device meets the following requirements:
For iOS​
Operating System: iOS 12.0 or later
Device: Compatible with iPhone, iPad, and iPod touch
For Android​
Operating System: Android 5.0 (Lollipop) or later
RAM: Minimum 2 GB
Storage: Minimum 100 MB of free space
💡 Before using, make sure you've already created a Chative.IO account.
Install Chative.IO mobile app​
Download Chative.IO mobile app​
To download and install the Chative.IO mobile app, follow these simple steps:
For iOS Users:

Visit the App Store on your iPhone or iPod touch.
Search for "Chative.IO" and download the app, or click here.

For Android Users:

Visit the Google Play Store on your Android device.
Search for "Chative.IO" and download the app, or click here.
Log in to your Chative.IO account on mobile app​
To access your Chative.IO account on the mobile app, follow these steps:
Step 1: Launch the Chative.IO mobile app on your device.
Step 2: Enter your Chative.IO account (email and password) in the login screen.
Step 3: Tap the "Login" button to sign in to your account.
Mobile app capabilities​
Why should you use Chative.IO mobile apps​
Stay connected with your customers and provide seamless customer support anytime, anywhere.
Manage conversations, access customer information, and collaborate with your team efficiently on the go.
Enjoy flexibility and convenience in engaging with customers, even when you're away from your desk.
Receive real-time notifications to stay updated on customer interactions and deliver prompt responses for excellent customer service.
Key features and functionality​
Chative.IO mobile app provides a user-friendly interface to manage your conversations and customer support activities. Here are some key areas you'll find in the app:
Inbox: Access and respond to all customer messages across different touch points. You can also add notes for your teammates and send multimedia files like images, videos, and files.
Conversations: Easily filter conversations based on agents, channels, and other criteria by tapping on the settings icon at the top right corner of the inbox screen.
Contacts: View detailed profiles of your customers and add tags to categorize and organize them efficiently.
Settings: Modify your account profile, configure notifications and sounds, change app language, switch between organizations, and log out.
💡 Make sure to grant Chative.IO access to your media for successful file sharing.
Best practices for mobile users​
To make the most of the Chative.IO mobile app, follow these best practices for efficient usage:
Explore and utilize all key functions in the inbox to effectively manage customer conversations.
Set up your channels and live chat to ensure seamless communication with your customers.
Set up integrations and plugins for e-commerce to enhance your customer support capabilities.
Utilize tools for efficient team collaboration to streamline workflows and enhance productivity.
Make the most of automation and AI to optimize efficiency and save time.
Learn how to view analytics and insights to gain valuable data-driven insights into your customer interactions.
Support​
If you encounter any issues or have questions related to the Chative.IO mobile app, please contact our support team for prompt assistance and resolution.